Discount Kitchen Appliances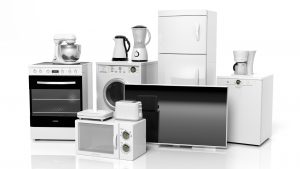 Refrigerator acting strange or making weird noises? Are the dishes not getting clean in the dishwasher anymore? Ready to upgrade to a new stovetop and oven for faster cooking? If any of this sounds familiar, you are likely in the market for new kitchen appliances. Do you want to find the best prices on top brand names? Visit Discount Savings Superstore, your wholesale kitchen appliance company in Greensboro, NC. Find refrigerators, ranges, dishwashers, and more at drastically lower prices than you will find at your typical retail appliance store.
Get a Huge Refrigerator Discount in Greensboro, NC on Popular Models
If you're looking for the popular side by side refrigerator with water and ice in the door, you will find it here. In a variety of colors like black, white, or stainless steel, you can have the convenience of filling a glass with ice cold water at the touch of button without even opening your refrigerator door. Enjoy maximum space with the French door style refrigerator with bottom freezer. You no longer need to bend down to grab everyday items that you reach for most often. The bottom freezer offers more space for your frozen foods that you don't pull out as often. Same day delivery and installation is included with all purchases, meaning your refrigerator will be rolled right into your kitchen and fully installed right down to the water hookup.
Find the Range You Need for Creating Culinary Masterpieces and Everyday Meals
Cooking and baking is easier and more delicious when you have the right equipment. If your old oven and stovetop isn't cooking evenly or takes way too long to preheat or boil water, it's time for an upgrade. Discount Savings Superstore has gas and electric ranges by top brand names with features like flat top stoves and double ovens. You can afford a new range with the low prices and financing options you find here.
A Dishwasher is a Convenience You Can't Do Without
If you're washing dishes by hand, you already know that a dishwasher would be much more convenient. So what's keeping you from getting one? High prices at other kitchen appliance stores in Greensboro, NC? No space in your kitchen for it? Discount Savings Superstore can solve both of these problems. By selling kitchen appliances wholesale, prices are lower. And if you need to modify your cabinets to make room for a dishwasher under your countertop, custom cabinets are available too. Installing a dishwasher doesn't mean you have to sacrifice cabinet space; in fact you may end up with more space with easier access once you have new custom cabinets built to fit your kitchen.
Visit Discount Savings Superstore to see ever-changing inventory of discount kitchen appliances in Greensboro. Looking for a certain item? Call (336) 580-4158 to find out how much of a discount you can get here.